"My work is devoted to helping women who value their health and are ready to commit to changes that will up-level their health and remove the "dis" from dis-ease. Whether you simply want to dig deeper into healthy living to feel your best ever and prevent health issues down the road, or you desire guidance to restore your already challenged health back to balance, you're in the right place."
I offer you:
A heart that cares, an ear that listens, a mind that understands.
Access to your untapped potential for healing and joy.
A targeted plan designed specifically for you to take your health to the next level.
A judgment-free space and expectation-free pace that honors your uniqueness.
Support every step of the way for as short or as long as you choose.
Learn more about personalized one-on-one coaching here
---
If a small group experiential learning program that includes an eye-opening 21-day sugar detox to jumpstart your health resonates with you more at this time, you are also in the right place!
Learn more about the 5 week Restart™ Program here

I am here to help you create a clear plan to optimize your health & turn your health goals into a REALITY!
Meet Diane
Welcome to my little corner of the internet where I get to share my passion for nutrition and wellness. I hope it leads you to the greatest form of wealth… your health!
My Story
I was raised to be mindful of health and, for better or for worse, body image. However, the health "truths" touted by mainstream media that informed my choices earlier in my life were anything but accurate and had me focused more on external appearances (translation: fat was the enemy!) than true vitality. Not surprisingly, years later, even though I thought I was the picture of health, I found myself with an under-nourished body susceptible to illness.
My deep dive into the healing power of whole food nutrition began shortly after I was diagnosed with Lyme Disease in 2010. Yikes – talk about getting knocked off of your feet! What a journey it has been!I struggled with body-wide aches and pains, neurological symptoms, extreme fatigue, infections, Candida, parasites, dysbiosis, adrenal imbalance, hypothyroidism, heavy metal toxicity, weight loss and more. When western medicine, while well-intentioned, failed to help me heal (and in fact made me much sicker!), I charted my own course to wellness. I learned to feed my body as a whole, on every level - physically, emotionally, mentally, energetically and spiritually. Without a doubt, listening to my body and responding with what it needed, especially with regards to nutrition, had the most profound effect on my health recovery.
I studied and experimented with so many healing diets…anti-inflammatory diets, Candida-diets, elimination and rotation diets, SCD, GAPS, Body Ecology, FODMAPS, Paleo, and more…and they all had merit, but they also all had at their root nutrient-dense whole foods. Therein, my friends, was a key health nugget. My body needed serious nutrition from real food…food grown on a plant or raised on a farm, not made in a plant and preserved in packages to last for months. Granted, I needed a whole lot more than food to heal with such a serious illness, but the right food was indisputably critical for any other healing to be possible.
While little healing took place before implementing a nutritious diet, functional medicine was another key to unlocking more mysteries in my health puzzle and leading me to feeling better than I had in years! If you're not familiar, functional medicine looks at the body and mind as a whole, finding the interconnectedness in symptoms and systems, rather than compartmentalizing as in conventional medicine.
Based on these experiences, my passion was born! I understood on the most fundamental and personal level that it was possible to emerge from the sickest of places and restore vibrant health with proper nutrition and the root cause healing approach of functional medicine. I wanted to deepen and formalize my learning.
My Bio
I have since trained and become certified in Nutritional Therapy through the Nutritional Therapy Association and most recently in Applied Functional Medicine through the School of Applied Functional Medicine (SAFM). Combining this knowledge, I practice Functional Nutrition. In between these programs of study and applied learning, I pursued 200 Hour certification as a Yoga Teacher, as yoga has been another long-time healing gift and steady practice in my life. I also earned Reiki l & ll certification. My love of learning never stops; I continue to pursue additional coursework at SAFM and am currently enrolled in the Life Mastery Training program at the Rhys Thomas School of Energy Medicine. I also have a B.S. degree in Animal Science from UMass Amherst and an MBA degree from Boston College. I enjoyed a 10 year career in Environmental Consulting prior to my treasured years raising 2 precious boys with my wonderful husband of over 25 years.
In addition to supporting clients along their healing path, I have a bit of a love affair with yoga. Whether on my mat, leading a class, on the beach or the top of a mountain – it's always fun to strike a pose!
For more fun & fitness, I can be found fitting in a good work-out on most days, enjoying the great outdoors (hiking, skiing & kayaking, a couple of hours in the garden here and there or just an outdoor walk anywhere!), traveling, connecting with family and friends and seeking the JOY in any given moment. Life is a journey of discovery to be unfolded one experience at a time, and every day is a new opportunity to learn, to grow, to laugh, to cry, to work, to play, to connect, to explore, to awaken, to heal.
"Healthy" has become a way of life for me and I want that for you, too!
Functional Nutrition
I combine my studies in Nutritional Therapy and Applied Functional Medicine to practice Functional Nutrition. Functional Nutrition uses real whole food and other foundations of health to bring your unique body into balance and restore optimal health.
As a Nutritional Therapist, I focus on restoring five key foundations of health built on a properly prepared nutrient-dense whole food diet to lead you towards optimal health. Real whole food is where it's at!
With my further training in applied functional medicine, I see the whole of you and the interconnectedness in your symptoms to determine a step-by-step approach that begins to heal the root of the problem, once and for all. Feeling better is great; truly BEING better is the best! Why not aim high?
There is no "one size fits all" when it comes to you and your health. No one has the same body, requires the same diet, processes the same thoughts, experiences the same feelings or is living the same set of circumstances as you are. You are wonderfully unique!
I listen very closely to your personal story – how you came to be where you are today in terms of your health – and begin to put the pieces of the puzzle together like a detective to reveal root causes of symptoms underlying your health picture. Using functional medicine know-how, I will identify and help you resolve imbalances to get you feeling much better – perhaps better than you have in a long time!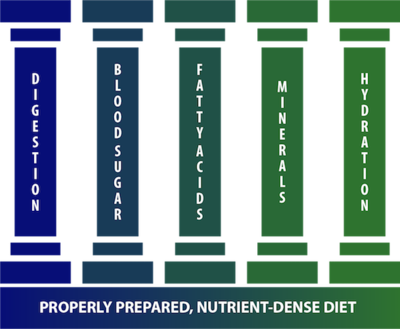 Our bodies are designed to heal naturally. Helping them along this path is not always easy, but it can be distilled down to this simple equation which cannot be emphasized enough. We need to MAXIMIZE all that is supportive of our bodies, MINIMIZE all that is harmful, and PRIORITIZE a healthy lifestyle. A supportive partnership can be one of the best ways to solve this equation. The result can be a level of health and vibrancy beyond what you may have thought was attainable.
It's how you were meant to live….full of energy and JOY!
Better health is waiting for you, and I would be honored to help!
Ready to take the next step?